Newspaper reporter, Cali Stevens, boldly walks into Sheriff Nick Justice's office, with one goal in mind: To find her best friend who disappeared while vacationing. When the no-nonsense sheriff refuses to give her details of the investigation, Cali takes matters into her own hands and starts her own investigation. She never intends to fall for the sheriff…or into the clutches of the Coral Isle's first serial kidnapper.

Coral Isle's recent abductions give Nick Justice enough to worry about without adding any complications into the mix, and his attraction to Cali Stevens is definitely a complication. When Nick encourages Cali to leave the island, she refuses. Now he must manage to find the missing women while keeping Cali and the rest of the women on Coral Isle safe.


"Tell me what you know about him."
"I know you don't want to cross paths with him."
"That's original." Cali flipped her long hair behind her shoulders and began tapping her
right foot again. "Why don't you tell me something I don't know?"
Nick clenched his hands into fists and crossed his arms. Shaking his head, he said, "You
have no idea what this man is capable of."
"If you tell me, then I'd know wouldn't I?"
He ground his teeth and sighed as his irritation grew. "It's getting late. I'll walk you back to your room." He turned on his heel and picked up the water bottles, napkin and the sandwich wrapper, dumping them into the poolside trashcan before facing her again.
"So that's it? You won't tell me anything?"
"No. I can't tell you anything. Not yet."
Cali looked away, took in a deep breath and walked past him out of the pool gate. He let her lead the way back to her rented room. Stopping in front of the door, she wrapped her arms around herself and studied her toes.
Nick slipped the key into the slot and turned it, opening the door an inch. When she
moved to step inside, he caught her slender arm in his grasp. "Stop snooping, Cali. Don't put yourself at risk."
Her full lips tightened. "I can take care of myself."
"Yeah? That's probably what Serena thought too."
A brief flash of pain crossed her eyes before they became guarded.
"Listen Cali, I'm only trying to keep you safe. It's my duty to protect you."
Renewed determination swirled in her eyes along with a spark of anger. "Yeah? Well,
don't do me any favors. It was your duty to protect Serena too. And look what happened to her."

Snippets:
"The author has a lovely sense of relationships and humor. One of my favorite scenes is where Cali learns Serena's not the only woman to have vanished. You should have told me about the other women, she shouts in a restaurant, leaving Nick to cope with the islanders misinterpretations and shocked looks. Sparks continue to fly between the two protagonists as attraction vies with distractions. But the redoubtable Mrs. Mayes reminds them, Sometimes God puts people into our lives to help us, and just maybe that's what they're supposed to do for each other.
Cali's control issues will be familiar to many readers, the need to be doing something, the need to see it through. She trusts her Dad (a delightful relationship) and slowly she learns to trust Nick even more slowly God. Then a perfect storm of troubles brews an exciting and satisfying climax to the tale. This one's definitely a keeper...." Reviewed by: Sheila Deeth, WRDF Review
"This is a very entertaining inspirational romantic suspense! Very enjoyable!... I like how Ms. Davy focuses on one fundamental lesson rather than diverging into several. Throughout Cali's efforts and struggles Nick has to gently but consistently remind her that God is the one in control of our lives and she has to learn to trust Him in all things. It is done as a natural extension of Nick's character and not at all preachy. This is a good romantic suspense that I think anyone would enjoy as a very satisfying read! " ~ Reviewed by: Martha E. ~ You Gotta Read Reviews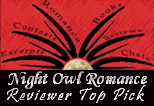 Oh my god Wendy Davy definitely knows her suspense. Someone out in Coral Isle is kidnapping women and no one has any idea why. Cali is a woman bent on finding her best friend no matter what. Through it all is Sheriff Nick Justice who is taking all the heat. Through danger these two are brought closer but it is through God that they are led to something greater than just love for there is passion. This was a great book. This story shows love and loyalty between two friends and makes you remember to never give up on friends no matter the situation.Reviewed by: Melinda ~ Night Owl Romance Top Pick!