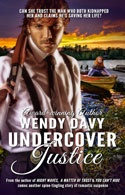 Undercover Justic

Convicted criminal Skylar Hart is determined to salvage her reputation. When evidence of a crime points in her direction, she fears she will be the prime suspect. As Skylar sets out to prove her innocence, she becomes an unwilling participant in a deadly game of chance, and finds herself tossed into the arms of the one man who has the power to bury her or to save her.

Security specialist Slade Marshal is determined to gather evidence against the thief who wreaked havoc on his family. When a case of mistaken identity jeopardizes Slade's covert operation, he fears his chance of putting the monster behind bars may be short-lived. As he sets out to complete his mission, he finds himself at the mercy of the one woman who has the power to impede his plans, or bring him to victory.

Breathless, Skylar Hart stared at the computer screen. Was this a cruel joke? She refreshed the online banking web page. Same results. This wasn't a hoax. The transaction was real. The money set aside for the women's shelter was gone—all of it. To make matters worse, the account fraud had originated from her office computer's IP address. The authorities would investigate, and when they did, she would be the prime suspect.
How could God allow this to happen? She had given her life to Christ. She was His now. Weren't things supposed to be easy for Christians?
Lord, why now? I was so close to earning a solid reputation. Skylar's heart thudded fast and loud as she scanned the office building's fifth floor. At half past nine on a Friday night the other employees at her uncle's real estate firm were long gone. She'd stayed late to tie up loose ends before the weekend. The last item on her list, processing Uncle Winston's monthly charity donation, should've taken only a few minutes, and it would have if not for finding the savings account compromised. What would the shelter do without the funds? What would her uncle think? He'd trusted her when others had shunned. But, would he believe her to be trustworthy after this? If not, the authorities would follow the path of least resistance. Why would they bother to search for the true thief when they had a perfectly good suspect thrown into their path?

"This is a fast-pace novella with great characters. The hero is swoon-worthy and the heroine is a strong female that is far from perfect but has been redeemed through Christ. There is plenty of action throughout the story and I got so into the storyline that I found myself responding to what I read. In my mind I wanted to shout, "No! Don't do it!" It was a lot of fun to read and I thoroughly enjoyed it. I recommend this book to anyone who enjoys a good, clean Christian romance with a good plot and some action. I have read other works by this author and have never been disappointed. Excellent" ~ Autism Mom